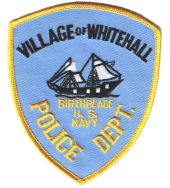 We all as Law Enforcement Officers know that our patches are collectible items across the world. As special as the patches are to the collectors, they are equally as unique to us as they identify our Law Enforcement Agency from the others alike.
We would love to have an unlimited supply of our patches to all Law Enforcement and Collectors all over the world, however the rising costs of everything prohibit that.
We keep only a few extra patches at the Department, and the rest are kept at our distributor for application to our uniforms.
As unfortunate as this is for collectors, we Thank You for your interest in the patch of the Whitehall Police Department!