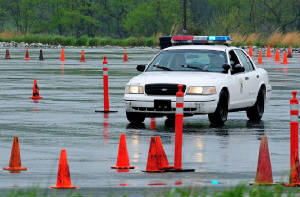 The Whitehall Police Department is currently in the process of planning a Law Enforcement Training Academy which will comply with all standards of the New York Municipal Police Training Course requirements as set forth by the New York State Division of Criminal Justice Services. Articles regarding the proposed Training Academy have been published recently in the
The Whitehall Times
, and the
Post-Star
newspapers.
Smaller areas and departments have encountered the difficulties of sending officers off to training for long periods of time, due to distance, budgets, and small staffs. As we have in the past, the Whitehall Police Department is compiling the necessary requirements to submit the completed M.P.T.C. to the Division of Criminal Justice Services for final approval. The school schedule, if approved by D.C.J.S., will be geared towards a training schedule permitting attendees to train around the typical work hours of a weekly full-time job, without losing any aspects of the necessary training.
As we progress, we will update this page with information.
As a note, in order to enroll in a Law Enforcement Training Academy, you must first be sponsored by a municipal, or otherwise designated, law enforcement agency. Civilians are not permitted to enroll / attend without a law enforcement agency sponsor. The cost and enrollment requirments will be posted as final approval is received from the Village of Whitehall Board and the State of New York.
If you have any questions regarding the Training Academy, or are a law enforcement agency with instructors to offer, or interested in sending recruits, please send your message to
trainingacademy@whitehallpolice.org
.
Thank You.